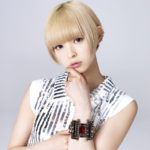 Mogami Moga left Dempagumi.inc on August 6.
This sudden announcement was made by Moga herself on her blog the same day.
The reason is that she has suffered bad physical conditions for several (she has canceled her appearances at several events organized by Dempagumi.inc).
She decided to leave the idol group due to her poor physical condition and no longer disturb the fans ; No public graduation ceremony and concert took place.
Dempagumi.inc will continue their activities with the 5 other members.
Mogami Moga joined the unit on December 25, 2011. Her color within the Dempagumi.inc was purple.