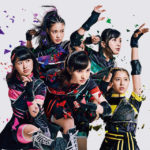 Momoiro Clover Z released their 18th single BLAST! on August 2.
The theme of this single is sport, endurance and the Olympics.
In the MV for BLAST!, each girl participates in an event where they sing while participating in a judo competition, fencing, weightlifting and table tennis against other Japanese athletes. Namely that the next Olympic Games will be held in Tokyo in Japan in 2020.
In those of Kyoukai no Pendelum, the girls are in a factory where they sing together while the rain is pouring down on them.
The single is sold in 3 versions: 1 normal and 2 limited.
Furthermore, Sasaki Ayaka will go solo! She will release her own single My Cherry Pie (Koiki na Cherry Pie) / My Hamburger Boy (Uwaki na Hamburger Boy) on next August 23rd.
Tracklist
Regular Edition

CD

Yum-Yum!
Survival of the Fittest (interlude)
BLAST!
Itsudatte Chousensha (何時だって挑戦者)
Kyoukai no Pendelum (境界のペンデュラム)
Type A

CD

Yum-Yum!
Survival of the Fittest (interlude)
BLAST!
Itsudatte Chousensha (何時だって挑戦者)
Yum-Yum! (off vocal ver.)
BLAST! (off vocal ver.)
Itsudatte Chousensha (off vocal ver.)

BLAST! (Music Video)
BLAST! (Music VIdeo Off Shot)
Type B

CD

Yum-Yum!
Survival of the Fittest (interlude)
BLAST!
Kyoukai no Pendelum (境界のペンデュラム)
Yum-Yum! (off vocal ver.)
BLAST! (off vocal ver.)
Kyoukai no Pendelum (off vocal ver.)

Blu-ray

BLAST! (Music Video)
BLAST! (Music VIdeo Off Shot)
Music Video (PV)