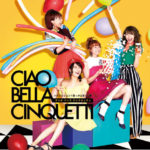 The new single High Tension! Wagga Jinsei! / Wadachi (ハイテンション!我っが人生!/轍) of Ciao Bella Cinquetti was released on August 2.
It has a double A-side.
Check out the music videos of the two main songs.
The single is sold in 3 editions : Types A and B and a limited one.
The CD of the editions A and B contains a bonus track.
The track listing is not the same for the limited edition. This latter contains the songs' video clips.
Tracklist
Types A and B

CD

High Tension! Wagga Jinsei (ハイテンション!我っが人生!)
Wadachi (轍)
High Tension! Wagga Jinsei (Nanchatte Samba mix)
High Tension! Wagga Jinsei (Instrumental)
Wadachi (Instrumental)
Limited Edition

CD

High Tension! Wagga Jinsei (ハイテンション!我っが人生!)
Wadachi (轍)
High Tension! Wagga Jinsei (Instrumental)
Wadachi (Instrumental)

DVD

High Tension! Wagga Jinsei (Music Video)
Wadachi (Music Video)
Music Video (PV)