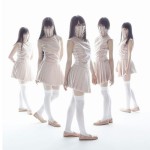 Momoclo will release Momoiro Clover Z Japan Tour 2013 5th Dimension on DVD and Blu-ray on July 24.
The concert was recorded on March 17 at Nippon Gaishi Hall, Nagoya. The setlist includes amainly songs from their latest album.
Momoiro Clover Z (ももいろクローバーZ) Japan Tour 2013 5th Dimension was held from March 12 to 31.
Moreover, an analog edition of the album 5th Dimension will go on sale on August 4. It will be available on 2 LPs.
Setlist
Neo Stargate
Kasou Dystopia (仮想ディストピア)
Mouretsu Uchuu Koukyoukyoku・Daiaana Gakushou "Mugen no Ai" (猛烈宇宙交響曲・第七楽章「無限の愛」)
5 The Power
Roudou Sanka (労働讃歌)
Get Down! (ゲッダーン!)
Otome Sensou (Z女戦争)
Tsuki no Gingami Hikouki  (月と銀紙飛行船)
Birth Ø Birth
Joukyu Monogatari -Carpe Diem- (上球物語 -Carpe Diem-)
Soratobu! Ozashiki Ressha (宙飛ぶ!お座敷列車)
Saraba, Itoshiki Kanashimi Shimitachi yo (サラバ、愛しき悲しみたちよ)
Hai to Diamond (灰とダイヤモンド)
– Encore –
Contradiction
Ikuze! Kaitou Shoujo (行くぜっ!怪盗少女)
Momoiro Punch (ももいろパンチ)
Mirai e Susume! (未来へススメ!)
Pinky Jones (ピンキージョーンズ)
Shiroi Kaze (白い風)
– Double Encore –
Hashire! (走れ!)
Album
Video (Trailer)