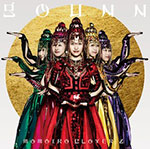 Momoiro Clover Z will release their new single Gounn on November 6.
It is the 10th single from MomoClo. It is the first one to be released for approximately one year.
2 editions are available. The limited edition includes a bonus DVD with the music video.
A special website has been opened : gounn.jp.
The coupling track Momoiro Taiko Dodon-ga Bushi (ももいろ太鼓どどんが節) is a tie-up song coming from a collaboration between Momoiro Clover Z and the video game Taiko no Tatsujin (太鼓の達人) on Wii U.
Furthermore, Momoiro Clover Z Japan Tour Gounn started on September 28. The final concert, scheduled on November 22, will be broadcast live at theaters and live house across Japan.
The live event Haru no Ichidaiji 2013 Seibu Dome Taikai ~ Hoshi wo Tsugu Momo vol.1 / vol.2 Peach for the Stars ~ (ももクロ春の一大事 2013 西武ドーム大会~星を継ぐもも vol.1 / vol.2 Peach for the Stars~) is on sale since September 25.
Regular Edition
CD

Gounn
Itsuka Kimi ga (いつか君が)
Momoiro Taiko Dodon-ga Bushi (ももいろ太鼓どどんが節)
Gounn (Instrumental)
Itsuka Kimi ga (いつか君が) (Instrumental)
Momoiro Taiko Dodon-ga Bushi (ももいろ太鼓どどんが節) (Instrumental)
Limited Edition
CD

Gounn
Itsuka Kimi ga (いつか君が)
Gounn (Instrumental)
Itsuka Kimi ga (いつか君が) (Instrumental)
Music Video (PV)
Momoiro Clover Z × Taiko no Tatsujin