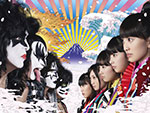 The single of Momoiro Clover Z and KISS entitled Yume no Ukiyo ni Saitemina (夢の浮世に咲いてみな) will be released on January 28, 2015.
As announced in last November, the collaboration Momoiro Clover Z vs KISS will release this single in CD and worldwide on iTunes Music Store in over 120 countries.
The full version of the MV has been unveiled.
The tracklist was revealed in late December.
The single will be sold in two editions: one attributed to Momoiro Clover Z ("Momoclo Ban") and another one attributed to KISS ("KISS Ban").
The Momoclo Ban edition will include the CD with the title song Yume no Ukiyo ni Saitemina and a B-side song Rock and Roll All Nite (one of the best known songs of KISS, originally recorded on their third album Dressed to Kill in 1975) and their instrumental versions. It will contain a bonus DVD which featured the music video of Yume no Ukiyo ni Saitemina.
The KISS Ban edition will include the same CD with a bonus track SAMURAI SON (with its instrumental version), whose vocal leader is Paul Stanley, the main guitarist of KISS.
The trailer video of the title song was posted on YouTube. You can watch it below.
Tracklist
Momoclo version
CD

Yume no Ukiyo ni Saitemina (夢の浮世に咲いてみな)
Rock and Roll All Nite
Yume no Ukiyo ni Saitemina (off vocal ver.)
Rock and Roll All Nite (off vocal ver.)
Blu-ray

Yume no Ukiyo ni Saitemina MUSIC VIDEO
Kiss version
CD

Yume no Ukiyo ni Saitemina (夢の浮世に咲いてみな)
Rock and Roll All Nite
SAMURAI SON
Yume no Ukiyo ni Saitemina (off vocal ver.)
Rock and Roll All Nite (off vocal ver.)
SAMURAI SON (off vocal ver.)
Music Video (PV)