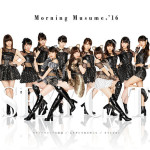 Morning Musume '16 unveiled their 62nd single Sexy Cat no Enzetsu / Mukidashi de Mukiatte / Sou Janai (セクシーキャットの演説 / ムキダシで向きあって / そうじゃない).
It will be on sale from November 23.
It contains a triple A-side.
Tsunku wrote and composed the lyrics of the song Sou Janai.
Limited editions will include a bonus DVD containing a video clip.
The limited editions and the first sales of the regular edition will be sold with a serial number card which, when entered into a lottery, allows to win a ticket to participate in one of the launch events of the single.
A special box set will be also published, including all versions of the unique and the chance to attend one of several events.
Tracklist
CD

Sexy Cat no Enzetsu (セクシーキャットの演説)
Mukidashi de Mukiatte (ムキダシで向きあって)
Sou Janai (そうじゃない)
Sexy Cat no Enzetsu (Instrumental)
Mukidashi de Mukiatte (Instrumental)
Sou Janai (Instrumental)
DVD

Type A

Sexy Cat no Enzetsu (Music Video)

Type B

Mukidashi de Mukiatte (Music Video)

Type C

Sou Janai (Music Video)
Music Video (PV)