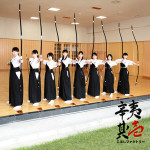 Kobushi Factory will release its 1st studio album Kobushi Sono Ichi (辛夷其ノ壱) on November 30.
The track listing and the photos of the members of the idol group were unveiled.
This album will contain, in the original CD, 17 tracks in total including new songs and those released as singles, since the group's debut, such as : Nen ni wa Nen / Survivor (indie single), Dosukoi! Kenkyo ni Daitan / Ramen Daisuki Koizumi-san no Uta / (…), Sakura Night Fever / Chotto Guchoku ni! Chototsu Moushin / Osu! Kobushi Tamashii and Samba! Kobushi Janeiro / Bacchikoi Seishun! / Ora wa Ninkimono.
It was released in three versions : a regular edition (CD only), a limited edition Type A (CD+DVD) and a limited edition Type B (2CD).
The 2nd CD of the limited edition B will contain covers songs of other Hello! Project idol groups like Morning Musume, Melon Kinenbi, Berryz Kobo and C-ute.
The DVD will feature footage of a live performance of Kobushi Factory held last summer at Otodama Sea Studio.
Tracklist
CD 1

Isogaba Maware (急がば回れ)
Dosukoi! Kenkyo ni Daitan (ドスコイ!ケンキョにダイタン)
Chotto Guchoku ni! Chototsu Moushin (チョット愚直に!猪突猛進)
Nen ni wa Nen (念には念)
Mijiku Hanjuku Torotoro (未熟半熟トロトロ)
Ramen Daisuki Koizumi-san no Uta (ラーメン大好き小泉さんの唄)
Kenmei Blues (懸命ブルース)
Bacchikoi Seishun! (バッチ来い青春!)
Zanshin (残心)
Survivor (サバイバー)
Samba! Kobushi Janeiro (サンバ!こぶしジャネイロ)
TEKI
Osu! Kobushi Tamashii (押忍!こぶし魂)
Ora wa Ninkimono (オラはにんきもの)
GO TO THE TOP!!
Sakura Night Fever (桜ナイトフィーバー)
Kobushi no Hana (辛夷の花)
CD 2 – Kobushi Covers Sono Ichi

Icchoume Rock! (一丁目ロック!) (Original: Berryz Kobo)
Koi no Jubaku (恋の呪縛) (Original: Berryz Kobo)
Maji Bomber!! (本気ボンバー!!) (Original: Berryz Kobo)
This is Unmei (This is 運命) (Original: Melon Kinenbi)
Kawaii Kare (かわいい彼) (Original: Melon Kinenbi)
Da Di Du De Do Da Di! (ダディドゥデドダディ) (Original: Morning Musume)
Seishun Gekijou (青春劇場) (Original: Berryz Kobo × °C-ute)
DVD

Kobushi Factory Special Live 2016 Summer at OTODAMA SEA STUDIO

Samba! Kobushi Janeiro (サンバ!こぶしジャネイロ)
Chotto Guchoku ni! Chototsu Moushin (チョット愚直に!猪突猛進)
MC 1
Piriri to Yukou! (ピリリと行こう!) (Original:Berryz Kobo)
Natsu (夏) (Original: C-ute)
Succha ka Meccha ka~ (すっちゃかめっちゃか~) (Original: Berryz Kobo)
MC 2
MC 3
Ora wa Ninkimono (オラはにんきもの)
HAPPY! Stand Up (Original: Berryz Kobo)
Maji Good Chance Summer (マジ グッド チャンス サマー) (Original: Berryz Kobo)
MC 4
TEKI
Dosukoi! Kenkyo ni Daitan (ドスコイ!ケンキョにダイタン)
Ramen Daisuki Koizumi-san no Uta (ラーメン大好き小泉さんの唄)
Osu! Kobushi Tamashii (押忍!こぶし魂)
Maji Bomber!! (本気ボンバー!!) (Original: Berryz Kobo)
MC 5
Rival (ライバル) (Original: Berryz Kobo)
This is Unmei (This is 運命) (Original: Melon Kinenbi)
Kacchoii Uta (かっちょ良い歌) (Original: Hello! Project Mobekimasu)
Sakura Night Fever (桜ナイトフィーバー)
〈ENCORE〉
MC 6
Bacchikoi Seishun! (バッチ来い青春!)
MC 7
Nen ni wa Nen (Nen Iri Ver.) (念には念 (念入り Ver.))