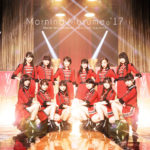 The single Brand New Morning / Jealousy Jealousy (BRAND NEW MORNING / ジェラシー ジェラシー) of Morning Musume '17 will be released on March 8.
This is the 63rd single from the idol group of Hello! Project.
The 13th generation members, Kaga Kaede and Yokoyama Reina, make their first appearance on this single. However, when the single recording, Masaki Sato was absent for medical reasons but participated in recording of B-side songs only (from special edition) ; she doesn't appear on most single covers.
The song Brand New Morning marks the group's 20th anniversary. It was written by Hoshibe Shou and composed by himself and Jean Luc Ponpon.
The song Jealousy Jealousy was written and composed by Tsunku. U.M.E.D.Y performs rap in this song.
The special edition will contain the coupling songs like Morning Miso Soup (commercial song and new version of the famous hit Morning Coffee) and Get you! (performed by the group with Sashihara Rino as Sashining Musume in the album Thumbnail of AKB48).
The DVDs will contain the video clips of the main songs and their version dance.
You can watch the video clips of the main songs and watch again which one of Morning Miso Soup.
Morning Musume will celebrate their 20th anniversary this year with concerts and upcoming events.
Tracklist
Limited and Regular Editions CD

Brand New Morning
Jealousy Jealousy (ジェラシー ジェラシー)
Brand New Morning (Instrumental)
Jealousy Jealousy (Instrumental)
Special Edition CD

Brand New Morning
Jealousy Jealousy (ジェラシー ジェラシー)
Morning Miso Shiru (モーニングみそ汁)
Get you! (Sashining Musume)
Brand New Morning (Instrumental)
Jealousy Jealousy (Instrumental)
Limited Edition A DVD

Brand New Morning (Music Video)
Limited Edition B DVD

Jealousy Jealousy (Music Video)
Special Edition DVD

Morning Misoshiru (Music Video)
Brand New Morning (Dance Shot Ver.)
Jealousy Jealousy (Dance Shot Ver.)
Music Video (PV)