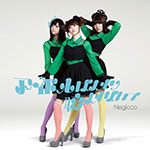 Negicco's new single Idol Bakari Kikanaide (アイドルばかり聴かないで) will be released on May 29.
This single commemorates the 10th anniversary of Negicco.
The CD contains 2 songs and their instrumental versions.
The limited edition comes with a bonus DVD featuring music video and making-of footage.
The songs were produced by Konishi Yasuharu and Connie.
Tracklist
CD

Idol Bakari Kikanaide (アイドルばかり聴かないで)
Atarashii Koi no Uta (新しい恋のうた)
Idol Bakari Kikanaide -Negi Nuki- (アイドルばかり聴かないで -ネギ抜き-) (Instrumental)
Atarashii Koi no Uta -Negi Nuki- (新しい恋のうた -ネギ抜き-) (Instrumental)
DVD (Limited Edition)

Idol Bakari Kikanaide (アイドルばかり聴かないで) (Music Video)
Idol Bakari Kikanaide (アイドルばかり聴かないで) (Making-of)
Music Video (PV)