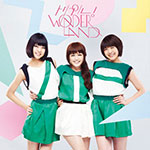 Negicco's new single Triple! Wonderland (トリプル!Wonderland) will be released on April 16.
The MV has been released.
The title song is produced by Yano Hiroyasu (ex Cymbals). He has also worked as a drummer and a songwriter.
The coupling song Life Is Candy Travel (ライフ・イズ・キャンディ・トラベル) is produced by Connie. The lyrics and the music were written by Kimyo Reitaro Travel Swing Gakudan.
The Type A edition includes a bonus DVD with the music video and making-of footage.
The Type B edition comes with a DVD featuring footage from Negicco's live performance at T-Palette Records Kanshasai 2013.
The Type C edition contains 2 remixed songs by PR0P0SE and Seiho.
A 7-inch LP version of the single is also available.
In addition, Negicco will hold live performances on April 26 at Kichijoji Club Seata in Tokyo and on April 27 at Niigata Lots. The tickets for these events are provided with the limited editions of the CD.
Tracklist
CD

Triple! Wonderland (トリプル!Wonderland)
Life is Candy Travel (ライフ・イズ・キャンディ・トラベル)
Triple! Wonderland (トリプル!Wonderland) (Instrumental)
Life Is Candy Travel (ライフ・イズ・キャンディ・トラベル) (Instrumental)
DVD (Type A)

Triple! Wonderland (トリプル!Wonderland) (Music Video)
Triple! Wonderland (トリプル!Wonderland) (Making-of)
DVD (Type B)

Sayonara Music (さよならMusic)
Imishin Kamo Dakedo (イミシン☆かもだけど)
Idol Bakari Kikanaide (アイドルばかり聴かないで)
Negative Girls (ネガティヴ・ガールズ!)
Attouteki na Style (圧倒的なスタイル)
Tokimeki no Headliner (ときめきのヘッドライナー)
CD (Type C)

Atarashii Koi no Uta (新しい恋のうた) (PR0P0SE remix)
Sayonara Music (さよならMusic) (Seiho remix)
7-inch LP

Triple! Wonderland (トリプル!Wonderland)
Life is Candy Travel (ライフ・イズ・キャンディ・トラベル)
Music Video (PV)