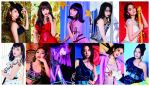 E-Girls have made a major new line-up within their group.
This announcement was made on June 4.
The group now comprises 11 members: SAYAKA, Kaede, Fujii Karen, YURINO, Anna, Suda, Washio Reina, Bando Nozomi, Sato Harumi, Ishida Anna, Yamaguchi Nonoka and Takebe Yuzuna.
Several members of the idol groups Dream, Happiness et Flower left E-Girls.
Several graduations of members took place at the beginning of this month.
Shizuka, Ami and Aya (from Dream) left the E-Girls ; Dream will be break-up in next July after the E-Girls concert on July 16th. These members will pursue their individual careers.
Shuuka Fujii, Shigetomi Manami and Nakajima Mio (from Flower) left E-Girls to concentrate on their activities with Flower ; Fujii Shuuka trained with his sister Fujii Karen the musical duet ShuuKaRen.
MIYUU and Kawamoto Ruri (from Happiess) left E-Girls to concentrate on activities within Happiness.
In addition, the new female entertainment project named "E.G. Family" was launched under the banner of E.G. EVOLUTION.
The E.G. Family includes artists such as: E-Girls, Happiness, Flower, Dance Earth Party, SUDANNAYUZUYULLY, ShuuKaRen as well as solo artists Dream Ami and Dream Ayu.
E-Girls will release their new single Love☆Queen on July 26.