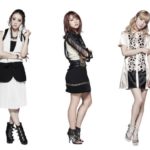 Dream announced on June 4 their disbandment.
It was also announced that the three members have left E-Girls, which have undergone a redevelopment within the group, with several departures integrations of members.
Dream will perform for the last time at E-girls concert E-girls LIVE 2017 EG EVOLUTION which will be held on July 16, 2017.
Aya will retire from group leader and interpreter after them and assume the duties of head of creation.
Shizuka will leave E-girls and Dream to focus on her activities with the new group Dance Earth Party after the last live Dream.
Ami continues her solo career as Dream Ami. She will release her new single Kimi no Tonari on July 12 and her first solo album in September.
We wish them every success in their projects.