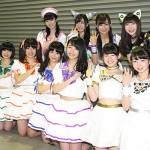 SUPER☆GiRLS and GEM introduced new members during iDOL Street Carnival 2016 6th Anniversary ~RE:Я|LOAD~ .
The event was held on June 25th at Tokyo Dome City Hall.
They have also celebrated the graduation of Arai Reira and Katsuta Rino.
The 3rd generation members of SUPER☆GiRLS are Kidoguchi Sakurako (Sapporo Snow Loveits), Ishibashi Hotaru (Avex Artist Academy), Ozawa Runa (Nagoya Chubu), Abe Yumeri (Tokyo Yume Pyo Gumi) and Nagao Shiori (Nagoya Chubu).
They will make their debut on the single Love Summer!!! (ラブサマ!!!) which is going to be on sale on August 31st.
In addition, after the departure of Takeda Maaya to Los Angeles, Noguchi Monami and Nishida Hirari were recruited by GEM. Noguchi Monami studied at an international school, and she can speak English.
Furthermore, Maeshima Ami and Suzuki Yuriya became the new leaders of SUPER☆GiRLS and Cheeky Parade.