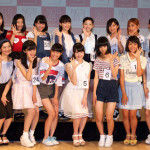 During a press conference held on July 25, the 1st generation of NGT48 (Niigata48) has been revealed.
However, it was only announced that they are 22 (74 candidates had participated in the final round of audition). 12 girls are from Niigata. They are between 12 and 20 years old.
The members should make their debut at the end of August.
There are already 4 members of NGT48 :
Kitahara Rie (captain)
Kashiwagi Yuki (kennin)
Nishigata Marina (draft member)
Ogino Yuka (draft member)