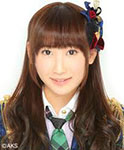 Nito Moeno announced her graduation from AKB48. The date of her graduation hasn't been decided yet.
The announcement was made during Team A stage performance at AKB48 Theater on February 14.
She explained that she took this decision to live new experiences as she is 20 years old.
Nito Moeno joined AKB48 in August 2008 as a 5th generation member. She is currently part of Team A. She finished in 2nd place at AKB48 Janken Tournament 2012 for AKB48's 29th single Eien Pressure (永遠プレッシャー).