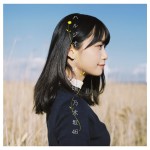 Nogizaka46's 14th single Harujion ga Saku Koro (ハルジオンが咲く頃) will be released on March 23rd.
The list of the Senbatsu members has been revealed.
Fukagawa Mai, who has announced her graduation from Nogizaka46, is the center. She will leave the idol group in April or in May.
The 17 Senbatsu members have been unveiled on February 1st during their variety show Nogizaka under Construction (乃木坂工事中).
3rd row : Sakurai Reika, Wakatsuki Yumi, Matsumura Sayuri, Ikoma Rina, Ito Marika, Inoue Sayuri, Hori Miona
2nd row : Saito Asuka, Takayama Kazumi, Eto Misa, Akimoto Manatsu, Hoshino Minami
1st row : Hashimoto Nanami, Nishino Nanase, Fukagawa Mai, Shiraishi Mai, Ikuta Erika
Nogizaka46's 14th single includes solo songs by Fukagawa Mai and Nishino Nanase.
The covers of each edition have been unveiled.
Tracklist
Type A

CD

Harujion ga Saku Koro (ハルジオンが咲く頃)
Harukanaru Bhutan (遥かなるブータン) (Ikuta Erika, Ito Marika, Eto Misa, Saito Asuka, Hori Miona, Wakatsuki Yumi)
Tsuyogaru Tsubomi (強がる蕾) (Fukagawa Mai)
Harujion ga Saku Koro (off vocal)
Harukanaru Bhutan (off vocal)
Tsuyogaru Tsubomi (off vocal ver.)

DVD

Harujion ga Saku Koro (Music Video)
Tsuyogaru Tsubomi (Music Video)
Individual PV
Type B

CD

Harujion ga Saku Koro
Harukanaru Bhutan
Kyuushamen (急斜面) (Shiraishi Mai, Hashimoto Nanami, Matsumura Sayuri)
Harujion ga Saku Koro (off vocal)
Harukanaru Bhutan (off vocal)
Kyuushamen (off vocal ver.)

DVD

Harujion ga Saku Koro (Music Video)
Kyuushamen (Music Video)
Individual PV
Type C

CD

Harujion ga Saku Koro
Harukanaru Bhutan
Tsuribori (釣り堀) (Nishino Nanase)
Harujion ga Saku Koro (off vocal)
Harukanaru Bhutan (off vocal)
Tsuribori (off vocal ver.)

DVD

Harujion ga Saku Koro (Music Video)
Tsuribori (Music Video)
Individual PV
Type D

CD

Harujion ga Saku Koro
Harukanaru Bhutan
Futougou (不等号) (Under Members)
Harujion ga Saku Koro (off vocal)
Harukanaru Bhutan (off vocal)
Futougou (off vocal ver.)

DVD

Harujion ga Saku Koro (Music Video)
Futougou (Music Video)
Individual PV
Regular ver.

CD

Harujion ga Saku Koro
Harukanaru Bhutan
Yuuutsu to Fuusen Gum (憂鬱と風船ガム) (Akimoto Manatsu, Ikoma Rina, Inoue Sayuri, Sakurai Reika, Takayama Kazumi, Hoshino Minami)
Harujion ga Saku Koro (off vocal)
Harukanaru Bhutan (off vocal)
Tsuyogaru Tsubomi (off vocal ver.)
Music Video (PV)