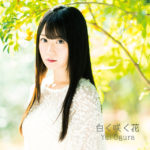 Ogura Yui will release her new single Shiroku Saku Hana (白く咲く花) on March 14.
This is the 8th single of the former member of YuiKaori.
The single was written by Omori Shoko and composed by Shunryu.
Check out the short and dance versions of the MV below.
The DVD will contain the music video, its making and live footage.
Tracklist
CD

Shiroku Saku Hana (白く咲く花)
Zutto Futari de (ずっとふたりで)
Kakegae no Nai Shunkan (かけがえのない瞬間)
Shiroku Saku Hana (off vocal ver.)
Zutto Futari de (off vocal ver.)
Kakegae no Nai Shunkan (off vocal ver.)
DVD

Shiroku Saku Hana (Music Video)
Shiroku Saku Hana (Making)
LIVE "Smiley Cherry"
Music Video (PV)