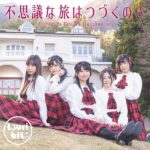 Tsuri Bit released their new single Fushigi na Tabi wa Tsuzukunosa (不思議な旅はつづくのさ).
This is the 10th single of the idol group Tsuri Bit.
The title song was used as the opening new theme song of the anime How to Keep a Mummy.
Check out the MV below.
The single will be released in regular (CD) and limited (CD+DVD) editions.
The DVD of the limited edition contains the clip of the title song and its realization.
The other limited editions available are nominative, that is to say, they each represent a member of the Tsuri Bit ; each member performs the song Fushigi na Tabi wa Tsuzukunosa in her own version.
Tracklist
Regular Edition

CD

Fushigi na Tabi wa Tsuzukunosa (不思議な旅はつづくのさ)
Piece of Cake
Fushigi na Tabi wa Tsuzukunosa (Instrumental)
Piece of Cake (Instrumental)
Other editions

CD

Fushigi na Tabi wa Tsuzukunosa (不思議な旅はつづくのさ)
Piece of Cake

DVD

Fushigi na Tabi wa Tsuzukunosa (Music Video)
Fushigi na Tabi wa Tsuzukunosa (Music Video Making)
Music Video (PV)