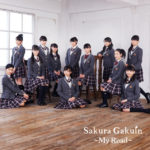 Sakura Gakuin released their new album Sakura Gakuin 2017 Nendo ~My Road~ (さくら学院 2017年度 ~My Road~) on March 3rd.
This is the 8th album of Sakura Gakuin.
Yamaide Aiko, Okada Megumi and Okazaki Momoko members will graduate on March 25th. She sings a three song Mirai Tokei under the name of Year 3's.
Yamaide Aiko, 7th leader of the idol group, broke the longevity record within the group. Having joined the group at a very young age in May 2013, she stayed there for five years. She also plays a solo song in the album, titled Futari Kotoba.
The album contains a cover of their previous songs.
It is sold in three editions: 1 regular and 2 limited.
The Blu-ray and DVD limited editions "Sakura" and "Gakuin" will contain, according to the disc, a clip and various videos.
Tracklist
CD

Mezase! Super Lady -2017 Nendo- (目指せ!スーパーレディー – 2017年度- )
Capsule Scope
FLY AWAY (Band Ver.)
Sleep Wonder (Band Ver.) (スリープワンダー)
I・J・I (Band Ver.)
Akindo Soul (あきんど☆魂) (Purchasing Club)
Mirai Tokei (未来時計) (Year 3's: Yamaide Aiko, Okada Megumi, Okazaki Momoko from Sakura Gakuin)
Futari Kotoba (Yamaide Aiko from Sakura Gakuin)
My Road
Sayonara, Namida. (さよなら、涙。)
Magic Melody
message
Yume ni Mukatte (夢に向かって)
Nee (ねぇ)
Limited Edition "Sakura" Blu-ray

My Road (Music Clip)
Otomegokoro (オトメゴコロ。) (@ 2017.11.18 Sakura Gakuin Matsuri☆2017)
Marshmallow Iro no Kimi to (マシュマロ色の君と) (@ 2017.11.18 Sakura Gakuin Matsuri☆2017
message (@ 2017.11.18 Sakura Gakuin Matsuri☆2017)
Limited Edition "Gakuin" DVD

Sakura Gakuin 2017 Nendo Gakunentsu Test (さくら学院 2017年度 学年末テスト)
Videos