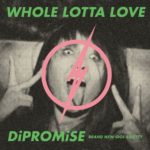 The new single of BiS (Brand-new Idol Society) will be released on March 7th.
It is entitled Whole Lotta Love / DiPROMiSE and has a double side A.
Check out the MVs below.
It is the 14th single of the unconventional idol group and the 3rd single of the new line-up of BiS.
The song DiSPROMiSE is the graduation song of the leader Pour Lui.
Pour Lui and Kamiya Saki (Gang Parade) did not participate in the recording the song Whole Lotta Love (Aya Eight Prince, Gang Parade, also who will be back by then).
Tracklist
CD

WHOLE LOTTA LOVE
DiPROMiSE
WHOLE LOTTA LOVE (Instrumental)
DiPROMiSE (Instrumental)
DVD

2017.10.6 [IDOL is DEAD] @ Blitz
Music Video (PV)