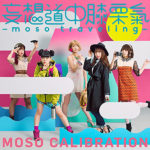 Moso Calibration unveiled their new album that will be released on March 14th!
The title is Mousou Douchuu Hizakuri Ki ~moso traveling~ (妄想道中膝栗氣~moso traveling~).
This is the 1st major album of the idol group Moso Calibration.
The album will be sold in regular and limited editions.
The CD will have a total of 13 songs. You can find the songs from the last singles of the idol group: Chichinpuipui ♪, Bang Bang No.1, Geki Yaba∞Bokkan!! and Sakurairo Dairy.
The DVD will feature MVs and live videos of the band about their last world tour.
Tracklist
CD

Tabi wa Kimi-dzure Yohanasake (旅は君連れ世は情け)
Hey Yo!
Chichinpuipui ♪ (ちちんぷいぷい♪)
Bang Bang No.1
Netsujou '18 (熱情 '18)
Unbalanced Umbrella (アンバランスアンプレラ)
Sakurairo Diary (桜色ダイアリー)
Seishun Prologue (青春プロローグ)
Majide Mou iya (まじでもういや)
only my railgun
Mou Ai Hana Fubuki (妄愛花吹雪)
Geki Yaba∞Bokkan!! (激ヤバ∞ボッカーン! !)
back stage
DVD

Chichinpuipui ♪ (Music Video)
Unbalanced Umbrella (Music Video)
irony (Music Video)
Bang Bang No.1 (Music Video)
Geki Yaba∞Bokkan!! (Music Video)
back stage (Music Video)
Sakurairo (Music Video)
Seishun Prologue (Music Video)
LONDON -HYPER JAPAN Festival 2017- [Documentary of World Tour]
SHANGHAI -BILIBILI WORLD 2017- [Documentary of World Tour]
HONG KONG -ACG Hong Kong 2017- [Documentary of World Tour]
TAIWAN -NO FEAR FESTIVAL 2017- [Documentary of World Tour]
SINGAPORE -C3AFA SINGAPORE 2017- [Documentary of World Tour]
Trailer (Video)