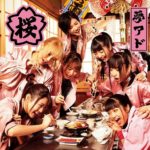 Yumemiru Adolescence will release their new single Sakura (桜) on March 14th.
This is the 11th major single of the idol group.
YumeAdo are back this year with a new line-up ; the new members : Minase Yuki (水無瀬ゆき), Yamashita Saya (山下彩耶) and Yamaguchi Hanon (山口はのん).
The songs were written, composed and arranged by NAOTO from the group Orange Range.
The single will be sold in 3 versions: a regular (CD) and two limited (CD+Blu-ray and CD+DVD).
The DVD of the edition B will contain a special documentary and the Blu-ray of the edition A will contain videos from Yumemiru Adolescence's live performances filmed in the summer of 2017.
Tracklist
CD

Sakura (桜)
Plastic Girl (プラスチックガール)
Sakura (instrumental)
Plastic Girl (instrumental)
Blu-ray

LIVE: Kobayashi Rei Fukkatsusai "Fantastic 4" 2017.06.03 shibuya duo MUSIC EXCHANGE (小林れい復活祭『ファンタスティック4』)
LIVE: 5th Anniversary Tour "Manatsu no Yoru no YUME LAND" 2017.08.13 LIQUID ROOM (真夏の夜のYUME LAND)
DVD

Documentary:"Nareta no Yumeado" Shin Member Documentary Video (『なれたの夢アド』新メンバードキュメンタリー映像)