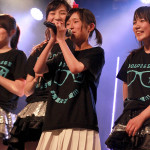 Okazaki Ichigo joined Idol College as a new member.
Okazaki Ichigo is 13 years old. She was formerly part of Smile Gakuen and Under Face.
The announcement was made during Idol College One-Man Live ~Natsu made Matenai! Hashaijatte mo Ii Desu ka?~ (アイドルカレッジ ワンマンライブ 〜夏まで待てない!はしゃいじゃってもイイですか?〜) on May 24 at Laforet Museum Harajuku, Tokyo.
Many fans gathered at the venue. This event was the first one-man live of Idol College for 6 months. It celebrated the release of their latest single #Tokonatsu Joshi Kibou (#常夏女子希望!!!). The group performed 25 songs.
Okazaki Ichigo was introduced on stage during the encore.
She is the 4th new member of Idol College since Izuhara Momo, Agasawa Ayano and Tozawa Mai passed the auditions in December.