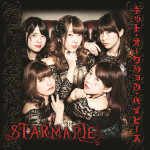 Starmarie's new single Net Auction Babies (ネット・オークション・ベイビーズ) will be on sale on May 27.
Produced by Toru Hidaka of The Starbems, Net Auction Babies is the first project of Nyt (brand new NOTTV Music Channel "Music Nyt" Label.
The music video has been posted on YouTube.
Starmarie, currently on their Starmarie Asia Tour 2015 ~Fantastic~ powered by e-earphone, have been making waves in Taipei and Indonesia, garnering lots of positive media attention overseas.
Starmarie, whose biggest strength lies in their live performances, has captured the hearts of fans at domestic shows spanning seven years with their dark fantasy aesthetic, music, and catchy dance moves. The Net Auction Babies video feeds off the frenetic energy of their live shows. Also worthy of note is the superimposed Net Auction-themed lyrics.
The single will feature two songs from Fantastic!!, produced by Toru Hidaka, with five different album covers.
It is available on iTunes all over the World.
Starmarie's domestic performance schedule is as follows. Their live performances are the core of the group, and are a must-see!
June 14 (Sun) 17:00 Independent Nagoya Show Osu RadHall
June 22 (Mon) 19:00 Tour Finale Shibuya Tsutaya O-East
Details of Starmarie's international ventures following their appearance at Manila, Philippines-based anime TV station Hero event are below:
June 5 (Sat) Manila, Philippines Music Hall, SM Mall Of Asia
Hero Faceoff 2015: The Ultimate Cosplay Battle
June 7 (Sun) Manila, Philippines Movie Stars Cafe Sponsored Event
Starmarie presents ~Tokyo Cosplay Battle~
https://www.facebook.com/events/823943817685418/
July 4 (Sat) and July 5 (Sun) Taiwan Performances PIPE Live Music
Oct 3 (Sat) and Oct 4 (Sun) Zuhai, China Anime Fair
Music Video (PV)