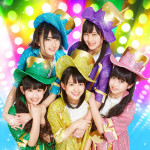 The new single of Tacoyaki Rainbow entitled Genki Uri no Shoujo ~Naniwa Meika Gojyussen~(元気売りの少女~浪花名歌五十選~) was released on last May 20.
It's the 4th single of Tacoyaki Rainbow.
The tracklist and the music video were unveiled.
Maeyamada Kenichi (a.k.a Hyadain) composed and written this new song. It came out as a hyper powerful tune that aggressively gives vitality to listeners with its funky disco sound.
Hyadain already worked with Tacoyaki Rainbow on its previous singles and with its sister group Momoiro Clover Z.
This single is available in several editions. The B-side songs are different on each edition. The DVD of one of the limited editions contains the music video of the title song and its making of.
Discover the colorful music video of the song Genki Uri no Shoujo ~Naniwa Meika Gojyussen~ of Tacoyaki Rainbow below.
Tracklist
Ookini!-ban

CD

Genki Uri no Shoujo ~Naniwa Meika Gojyussen~ (元気売りの少女~浪花名歌五十選~)
Juice Juicy (ジュージューシー!!)
Maido!-ban

CD

Genki Uri no Shoujo ~Naniwa Meika Gojyussen~ (元気売りの少女~浪花名歌五十選~)
Tako Niji Monogatari ~Over the Sekigahara~ (たこ虹物語~オーバー・ザ・関ヶ原~)
"Kansai" Limited Edition

CD

Genki Uri no Shoujo ~Naniwa Meika Gojyussen~ (元気売りの少女~浪花名歌五十選~)
Sakebe! Cowgirl (叫べ!ガウガール)
"Venue" Limited Edition

CD

Genki Uri no Shoujo ~Naniwa Meika Gojyussen~ (元気売りの少女~浪花名歌五十選~)

DVD

Genki Uri no Shoujo ~Naniwa Meika Gojyussen~ (Music Video)
Genki Uri no Shoujo ~Naniwa Meika Gojyussen~ (Making of video)
Music Video (PV)