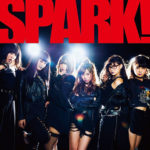 The new single Spark! by Osaka☆Syunkasyuto was released on December 19th.
It is the 2nd single major of the idol group.
In the MV, wearing black and leather clothes, the members of Osaka☆Syunkasyuto perform a jpop song with a mix of strangely familiar sounds of alternative rock from the 1990s. As they cross the lights around them, they prepare to fly to an unknown future. in front of them.
The single will be sold in two editions (CD and CD+DVD). The B-side song for both versions is entitled Stay.
The DVD includes the video clip of Spark!.
Osaka☆Syunkasyuto started in 2018 with their first one-man live of the year in Shinjuku BLAZE on January 13th. There were 2 performances and the afternoon will be free.
Tracklist
CD

SPARK!
Stay
SPARK! (Instrumental)
Stay (Instrumental)
Music Video (PV)