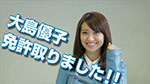 Oshima Yuko appeared in a new commercial movie for Tricity.
On this latest episode of the series, Oshima Yuko is discovering her new motorcycle and driving it in the street for the first time.
Check out the video and some pictures.
The sequel of the story will be released soon.
Yamaha Tricity125 is a 3-wheeler made by the japanese manufacturer.
A few months after her graduation from AKB48, Oshima Yuko still pursues her career as an actress.
Video
Photos