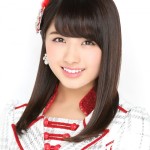 Owada Nana recently announced her graduation from AKB48.
This announcement was made by herself at the end of the Boku no Taiyou stage performance at their theater on November 29th.
The date of her graduation ceremony and her last concert with the idol group hasn't been determined yet.
The reasons why she wants to leave the group wasn't revealed. However, Nana apologized via a tweet for this sudden announcement and asked for fans to support her until her departure and her withdrawal as an idol.
Owada Nana is a 15th generation member of AKB48. She joined the group in 2013 and joined Team A then Team B.
She has also performed in several musicals.