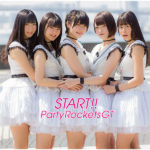 Party Rockets GT released their new single Start!! on May 17.
This is 8th single of the idol group Party Rockets GT.
The MV has been unveiled.
Takayuki Yoshimizu wrote the lyrics of Start!! and 01 -Zero Ichi-.
The song Beyond was written by Fujishima Mineko and Hironobu Hirata.
Kimi to Mita Sora was written by Takayuki Yoshimizu and Yamato Sawamura, and composed by Takada Hideki.
Miyake Hideaki composed and arranged most of the songs.
The single is available in 3 editions. Each CD is different.
Party Rockets GT will hold their concert Party Rockets GT One-Man Live ~beyond~ at Akasaka Blitz on June 25.
Tracklist
Type A

Start!!
Beyond
Start!! (Instrumental)
Beyond (Instrumental)
Type B

Start!!
01 -Zero Ichi- (01-ゼロイチ-)
Start!! (Instrumental)
01 -Zero Ichi- (Instrumental)
Type C

Start!!
Kimi to Mita Sora (キミと見た空)
Start!! (Instrumental)
Kimi to Mita Sora (Instrumental)
Music Video (PV)