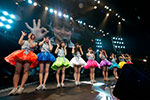 PASSPO☆ performs 69 songs at 6-hour New Year's show!
Okunaka Makoto graduates in front of cheering crowd.
On January 1st, PASSPO☆ celebrated the apex of their six-month "PASSPO☆ 5th Anniversary Count-UP Tour" with their grand finale concert "It's a New Year! Five years and a bit ~ Can we remember the moves for all of our songs?" at TOKYO DOME CITY HALL. Makoto Okunaka, who announced her graduation last year, went on her "last flight" in front of a captive New Years crowd of roughly 3,500, all eager to experience PASSPO☆'s last 9-member performance.
The Hatchake Team – consisting of members Shiori Mori, Yukimi Fujimoto, Natsumi Iwamura, and Naomi Anzai – opened for the main event. The concert kicked off with PASSPO☆'s major debut hits lineup: "Shoujo Hikou", followed by "Vivi Natsu", and "Kimi wa Boku wo Suki ni naru". Staying true to the show title's promise, PASSPO☆ performed "all of [their] songs", from their indie era to the their latest album TRACKS. "I don't want to waste even a second of it! I want to share the fun," said Okunaka about the idol group's longest show to date. Okunaka Makoto's comedy-driven graduation ceremony took place during the seventh and eight pieces, "Shang Shang Chandelier" and "Kibun Wa Saikou! Saikou! Saikou!", wiping out any traces of solemnity. Riding the same wave of energy, PASSPO☆ performed a medley of 21 songs from "Muteki GIRL" to "Pink Parachute". Starting with their 35th song, "Perfect Sky", the girls each grabbed an instrument, setting the stage for Band☆PASSPO. Among the set list were band-debut songs such as "BREAK OUT!!" and "2DAYS", letting the the audience in on the members' efforts and drive in performing as a band – one of their goals.
Following song 41, "BABY JUMP ~ Tengoku He No Toujoubin ~", a live performance by PASSPO☆ producers, Penne and Arrabiata led by The Ground Crew, kicked off the second half of the show. They wowed the audience by nailing "UHAE!", "WANTED", and other challenging PASSPO☆ numbers. Songwriter HAWAIIAN6's Yuta Yasuno came onstage for song 47, "Mousou No Hawaii"; then Strings Airport Quartet colored the stage with "BEAST IN YOU" and "Wish on a star".
"I want to turn all of the feelings that can't be conveyed into song. As long as I have a voice, I want to keep singing," said Mio Masui passionately before launching into song 56, "Onegai." The illustrations and lyrics streaming across the screen behind the members during "Onegai" were Masui's own work. The nine PASSPO☆ members sang their hearts out for " Himawari", with Masui on a bass inherited from the late Akihiro Yokoyama of The Ground Crew, who passed away suddenly last year. Their love for music and passionate vocals surely carried far away. Their love for music and passionate vocals will surely resonate.
Okunaka Makoto gave graduation messages to each of her group members before the last song of the concert, "TRACKS". "Ai-chan (Ai Negishi), thank you for being my Captain." "Yukki (Yukimi Fujimoto), I've never met anyone as nice as you." "Morishi (Shiori Mori), thank you for teaching me to dance." "Sako-chan (Sako Makita), I think you're a very strong person." "Nachu (Iwamura)'s kindness has helped me many times." "An-chan (Anna Tamai), you're always looking out for each of us." "Mio-chan (Mio Masui), we did a lot of M&M's. I think you're the most perceptive person out of all of us." Finally, she had a message for the audience: "The reason I've stayed smiling is because of my Passengers. Thank you!" The stage was bathed in pink (Okunaka's colour) for "TRACKS", after which Okunaka left the stage with a smile.
The main performance ended at 8:30 pm. Though five and a half hours had elapsed, the fans enthusiastically called, "Makoto!", not fatigued in the least. PASSPO☆ returned to the stage in response to their fans, performing four more songs from "LA LA LOVE TRAIN ~ Koi No Katamichi Kippu" to their original "Let It Go!!". The girls came back onstage again for their second encore in "Shoujo Hikou" costumes, Okunaka's favourite. Despite the challenges and rough patches of the past five year, Captain Ai Negishi said in closing, "I can say with confidence that I am so grateful that PASSPO☆ has been the nine of us." They performed "Shoujo Hikou" one more time to the audience's delight. After more than six hours, the curtains finally closed as the crowd went wild.
As they begin a new year, PASSPO☆ and Makoto Okunaka are setting off on new starts. The concert footage DVD will be released on March 25th. The new eight-member generation of PASSPO☆ will kick off their seven-show One Man Flight Tour "~More Attention" with a concert at Chiba Kashiwa PALOOZA on March 7th. Okunaka will star in "Shinrei Shashinbu".
Text by Yuka Okubo & translate by Cherrie Mio Rhodes