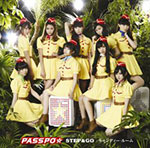 Passpo☆'s new single Step & Go / Candy Room (Step & Go / キャンディー・ルーム) will be released on May 22.
It is a double A side single. The CD contains 2 songs and their instrumental versions.
The First Class (ファーストクラス盤) and Business Class (ビジネスクラス盤) editions come with a bonus DVD featuring a music video and a ticket for a handshake event.
Step & Go is the ending theme song for the anime series Tanken Driland ~1000-nen no ma Takara~ (探検ドリランド-1000年の真宝-) broadcast on TV Tokyo.
Candy Room will be used as the ending theme for their new variety show Passpo☆ no Shaku-uma TV (Passpo☆の尺うまTV) which will start on April 6.
Economy Class
CD

Step & Go
Candy Room (キャンディー・ルーム)
Step & Go (Instrumental)
Candy Room (キャンディー・ルーム) (Instrumental)
First Class
CD

Step & Go
Candy Room (キャンディー・ルーム)
Step & Go (Instrumental)
Candy Room (キャンディー・ルーム) (Instrumental)
DVD

Step & Go (Music Video)
Business Class
CD

Candy Room (キャンディー・ルーム)
Step & Go
Candy Room (キャンディー・ルーム) (Instrumental)
Step & Go (Instrumental)
DVD

Candy Room (キャンディー・ルーム) (Music Video)
Music Video