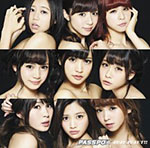 Passpo☆ will release their 3rd album Jejejejet!! on December 11.
The album contains 16 tracks including 5 new songs the latest singles of Passpo☆ Sakura Komachi (サクラ小町), Step & Go, Candy Room, Mousou no Hawaii (妄想のハワイ), and Growing Up.
The First Class edition includes a bonus DVD with a special edition of the documentary on each member for Growing Up. and a video of Onna no Ko Zukan Live (女の子図鑑Live) held in April at Shibuya AX.