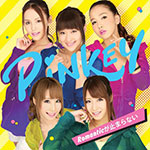 Pinkey's new single Romantic ga Tomaranai (Romanticが止まらない) is on sale since February 5.
This is the 3rd single from Pinkey. Only one edition is available.
The MV and the new sexy photo of the idol unit have been released.
It is a cover of C-C-B's hit song of the same name.
The CD contains 2 songs and their instrumental versions. It also includes 3 dramas featuring the members of the idol group.
Furthermore, Pinkey will give a live performance on February 11 at Shinjuku Tsutaya in Tokyo.
Tracklist
Drama 1 (School) (ドラマ-1(学園編))
Romantic ga Tomaranai (Romanticが止まらない)
Drama 2 (CD Shop) ドラマ-2(CDショップ編)
Shiawase Taikoku Papaya Kousou (しあわせ大国パパイヤ構想)
Drama 3 (Shiritori) (ドラマ-3(しりとり編))
Romantic ga Tomaranai (Romanticが止まらない) (Karaoke)
Shiawase Taikoku Papaya Kousou (しあわせ大国パパイヤ構想) (Karaoke)
Music Video (PV)