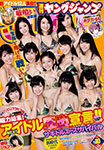 Sakidol Ace Survival Season 3 (サキドルエースSurvival Season3) started on February 6. The competition is organized by Weekly Young Jump (週刊ヤングジャンプ) magazine.
12 members from various idol groups (PPP! PiXion, Doki Doki Dream Campus, Daizy7, Lucky Color's, Houkago Princess, OS☆U, Yumemiru Adolescence, Idol College, Sunmyu, [email protected], dela, Go! Go! Powerful Gakuen) are participating in Sakidol Ace Survival Season 3
The video messages from the candidates have been released. Each member introduces herself and her unit, gives her impressions about the photo shoot, and sends a message to Weekly Young Jump readers.
The fans can vote for their favorite gravure idol from February 6 to 20 by sending a card published in the magazine.
Sengoku Minami (Up Up Girls (Kari)) had won the previous edition of Sakidol Ace Survival last year.
Yokoyama Ami (PPP! PiXioN)
Moriya Marin (Doki Doki Dream Campus)
Sakamoto Haduka (Daizy7)
Kanon (Lucky Color's)
Sakurai Riho (Houkago Princess)
Morisaki Tomomi (OS☆U)
Kyouka (Yumemiru Adolescence)
Minami Chisato (Idol College)
Kinoshita Ayana (Sunmyu)
Uratani Haruna ([email protected])
Kataoka Kazusa (dela)
Onishi Satsuki (Go! Go! Powerful Gakuen)