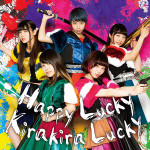 The new single of POP (Period Of Plastic 2 Mercy) entitled Happy Lucky Kirakira Lucky will be released on December 8.
This is the 1st single of POP under its new name. It is the 3rd single of the idol group (the first two ones were released by the band under the name Pla2me).
The video clip was unveiled.
In the video, the members of the POP sing and dance for showing their joy and their energy. They are dressed in a coat of bright colors, each of the girls is associated with a color. They also play with puppets looking like them.
The single cover is strangely similar to the group's mini album P.O.P released in last August.
The CD will contain the title song, a B-side song Alarm, and their insturmental versions.
One edition is available.
Tracklist
CD

Happy Lucky Kirakira Lucky
Alarm
Happy Lucky Kirakira Lucky (instrumental)
Alarm (instrumental)
Music Video (PV)