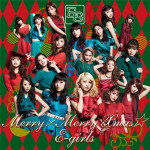 E-Girls' 15th single Merry × Merry Xmas★ will be on sale on December 23.
As the title suggests, It is a sweet Christmas and love song.
The theme of the music video is "E-Girls dance to celebrate Christmas".
The members are wearing outfits assorted to seasonal colors on the cover.
It is the tie-up song for the Samantha Thavasa winter commercial.
Moreover, the J-Pop girl group will release the album E.G. Smile -E-girls Best- on Febrary 10. The disc will include their greatest hits since their debut in December 2011.
Tracklist
Limited Edition

CD

Merry × Merry Xmas★
White Angel
Boom Boom Christmas / Dream & E-Girls
Merry × Merry Xmas★ (Instrumental)

DVD

Merry × Merry Xmas★ (Music Video)
Regular Edition

CD

Merry × Merry Xmas★
White Angel
Boom Boom Christmas / Dream & E-Girls
Merry × Merry Xmas★ (Instrumental)
White Angel (Instrumental)
Boom Boom Christmas (Instrumental)
Music Video (PV)