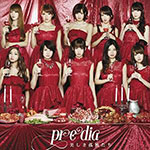 Predia's new single Utsukushiki Kodokutachi (美しき孤独たち) will be released on December 17th.
This is the 2nd major single from Predia.
Idol group member Murakami Rumina told that the lyrics and the melody have a feeling of nostalgia. The title means "beautiful lonely people" in Japanese.
The members of Predia are wearing sexy red dresses on the cover and on their new profile picture.
Type A edition comes with a bonus DVD featuring the music video.
Type B and C editions include different coupling songs.
Tracklist
Type A

CD

Utsukushiki Kodokutachi (美しき孤独たち)
Yasoukyoku ~Akai Nokoriga no Sasoi~ (夜想曲 ~赤い残り香の誘い~)
Baby Kiss
Utsukushiki Kodokutachi (Instrumental)
Yasoukyoku ~Akai Nokoriga no Sasoi~ (Instrumental)
Baby Kiss (Instrumental)

DVD

Utsukushiki Kodokutachi (Music Video)
Type B

CD

Utsukushiki Kodokutachi (美しき孤独たち)
Yasoukyoku ~Akai Nokoriga no Sasoi~ (夜想曲 ~赤い残り香の誘い~)
Utsukushiki Kodokutachi (Instrumental)
Yasoukyoku ~Akai Nokoriga no Sasoi~ (Instrumental)
Type C

CD

Utsukushiki Kodokutachi (美しき孤独たち)
Baby Kiss
Utsukushiki Kodokutachi (Instrumental)
Baby Kiss (Instrumental)