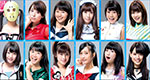 Sakidol Ace Survival Season 4 (サキドルエースSurvival Season4) started on October 2nd. The competition is organized by Weekly Young Jump (週刊ヤングジャンプ) magazine.
12 members from various idol groups (Kamen Joshi, Through Skills, dela, Afilia Saga, Yamaguchi Kassei Gakuen, Neo from Idoling!!!, Yumemiru Adolescence, Lyrical School, Up Up Girls (Kari), HR, Palet) are participating in Sakidol Ace Survival Season 4
The video messages from the candidates for Round 1 have been released. Each member introduces herself and her unit, gives her impressions about the sexy photo shoot, and sends a message to Weekly Young Jump readers.
The rule for Round 1 is that fans can vote for their favorite gravure idol by sending a card published in the issue 44 of the magazine.
Round 2 will start in late November 2014 and Round 3 in January 2015.
Check out the Sakidol Ace Survival Season 4 tournament bracket at the bottom of the page.
Who will be your favorite idol ?
Videos
Amaki Jun (Kamen Joshi)
Henmi Rena (Through Skills)
Hitomi Satomi (dela)
Yukafin Doll (Afilia Saga)
Okamura Momoka (Yamaguchi Kassei Gakuen)
Ito Yuna (Neo from Idoling!!!)
Kyouka (Yumemiru Adolescence)
Komatsu Hina (Lyrical School)
Sengoku Minami (Up Up Girls (Kari))
Yasuda Rei (HR)
Yoshida Rinne
Kimoto Mizuki (Palet)