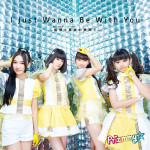 Prizmmy☆ will release their 12th single I Just Wanna Be with You ~Virtual to Real no Hazama de~ (~仮想(ヴァーチャル)と真実(リアル)の狭間で~) on February 18.
It is the ending theme song for the anime PriPara (プリパラ, Prism Paradise), and the second one by Prizmmy☆ following Jumpin'! Dancin'!.
The MV and its dance master version have been unveiled.
The lyrics were written by producer Komoro Tetsuya. He also composed the music. He had written TRF's songs EZ Do Dance, Boy Meets Girl and Crazy Gonna Crazy which were covered by Prizmmy☆ on their previous singles.
The dance choreography was made by Jessica. She is the sister of Japanese talent Becky.
Only one edition is available. It comes with a bonus DVD featuring various versions of the music video.
The anime PriPara is airing on TV Tokyo since July 2014.
The opening theme song is performed by i☆Ris.
Tracklist
CD

I Just Wanna Be with You ~Virtual to Real no Hazama de~
I Just Wanna Be with You ~Virtual to Real no Hazama de~ Club Mix ver.
I Just Wanna Be with You ~Virtual to Real no Hazama de~ (Instrumental)
I Just Wanna Be with You ~Virtual to Real no Hazama de~ Club Mix ver. (Instrumental)
DVD

Music Video
Dance Master ver.
TV-size ver.
Making-of
Music Video (PV)