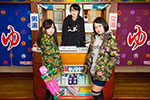 Rhymeberry's new single Idol Illmatic will be released on November 19th.
It is the first single from Rhymeberry since Otawara Yuka left the rap idol group 6 months ago.
Check out the MV, the live videos and the covers.
Idol Illmatic is about the everyday life of a Japanese idol.
The music video is currently in production.
The limited edition includes Playground #1 (プレイグラウンド#1) as a bonus track. It is rap song with an acapella part.
Furthermore, The Rhymeberry no The Idolmatic, The Free Live Tour (ザ・ライムベリーのジ・アイドルイルマ ティック、ダ・フリーライブツアー!) will be held from October 4 to November 24, 2014.
Rhymeberry will give their 2nd concert Magic Party Vol.2 on December 21st at Shinjuku Blaze, Tokyo.
Tracklist
Regular Edition

Idol Illmatic
In the House
Idol Illmatic (Instrumental)
In the House (Instrumental)
Limited Edition

Idol Illmatic
In the House
Playground #1 (プレイグラウンド#1)
Idol Illmatic (Instrumental)
In the House (Instrumental)
Clip Vidéos (MV)
Videos (Live)