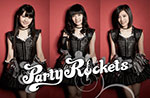 Party Rockets' 1st album Triangle will be released on December 17.
This original album contains 14 songs including Party Rockets' previous singles and 2 news songs titled Imagine na Ai no Uta (イマジンな愛の歌) and Secret Moon.
The old songs of the idol group were re-recorded by the 3 current members for this release.
The track listing has been unveiled. However it is listed in a random order.
Furthermore, Party Rockets one-man Live Full Throttle will be held on November 15 at Shinjuku Blaze, Tokyo.
Tracklist
Akeba Ima (アゲハ今)
Kasabuta
Zettai Love (絶対♡Love)
Dangan High Jump (弾丸ハイジャンプ)
Hatsukoi Rocket (初恋ロケット)
Rockin' Horse Ballerina
Miraie
Nichijou Dreamer (日常ドリーマー)
Setsuna Sora (セツナソラ)
Rainbow!
Let's Go !!
Start Line (スタートライン)
Imagine na Ai no Uta (イマジンな愛の歌)
Secret Moon