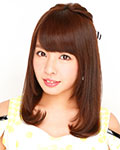 Yamada Nana announced her graduation from NMB48.
However he is going to continue her activities during a few months as she will leave the idol group in the Spring of 2015.
Yamada Nana graduation live performance and ceremony will be held on April 3, 2015. This date also corresponds to her 23th birthday.
Yamada Nana is a 1st generation member of NMB48. She joined the idol group in 2010. She is currently the captain of Team M. She is also a concurrent member of SKE48 Team KII.
Yamada Nana made the announcement on October 15 during NMB48 4th Anniversary Live at the Osaka International Convention Center.