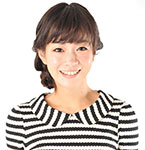 Sakai Hitomi (Idoling!!!) is going on hiatus due to poor physical health.
Sakai Hitomi announced herself on her blog that she went to hospital for medical examination and treatment. She has to stop her activities for a while in order to recover.
As a result, Sakai Hitomi will miss the upcoming events held by Idoling!!!, including her birthday live Sakacchi to Mitsuko no Heya vol.3 ~Sakacchi Birthday Party~ (さかっちとミツコの部屋vol.3~さかっち生誕祭~) which was scheduled on May 3.
Sakai Hitomi explained that she was troubled about that, but that she took this decision after having talked with her teachers and her manager. Her priority is to recover.
We wish her a quick recovery.