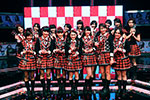 The results of the JKT48 6th Single Senbatsu Election 2014 have been announced.
Melody Nurramdhani Laksani ranked 1st with a total of 14541 votes. Jessica Veranda (13285 votes) and former AKB48 member Nakagawa Haruka (13276 votes) came in 2nd and 3rd positions.
As the winner, Melody Nurramdhani Laksani will be the center on JKT48's 6th single Gingham Check (ギンガムチェック).
JKT48 6th Single Senbatsu Election was the first event of this type held by the idol group from Jakarta. There were 71 candidates.
A total of 16 girls have been selected as Senbatsu members.
Results
Melody Nurramdhani Laksani (14541)
Jessica Veranda (13285)
Haruka Nakagawa (13276)
Shania Junianatha (12859)
Beby Chaesara (12015)
Nabilah Ratna Ayu (11872)
Rica Leyona (11732)
Devi Kinal Putri (10031)
Ghaida Farisya (9044)
Viviyona Apriyani (8917)
Ratu Vienny (7149)
Cindy Yuvia (6669)
Thalia (6290)
Ayana Shahab (6259)
Jennifer Hanna (5144)
Jessica Vania (4718)