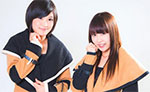 Yamasaki Asaka and Yamasaki Airi announced their graduation from S-Qty.
Both Yamasaki sisters will leave the idol group on June 1.
They will hold a last live performance on that date at Kurashiki Redbox in Okayama Prefecture.
The staff announced that the activities of S-Qty Project will be suspended.
The girls apologized for this sudden news and thanked the fans for their support. They want to continue their activities together as sisters in the future.
Yamasaki Asaka and Airi are 1st generation members of S-Qty. They joined the idol group in July 2010.