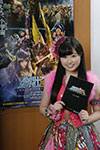 Sasaki Ayaka (Momoiro Clover Z) will be starring in the movie Saint-Seiya Legend of Sanctuary.
It will be the first appearance of Sasaki Ayaki as a voice actress. The member of Momoclo will perform the voice of Athena (Saori Kido) who is the main heroine.
Arin said : "I like Athena because she is a beautiful and strong leader. I think that the relationship between Athena and Knights is similar to the relationship between Momoiro Clover Z and fans as they are trying to protect us. This is the beginning of Ayaka Revolution".
Saint-Seiya Legend of Sanctuary is a CG animation movie. It will be released on June 21 in Japan, and later in theaters all over the world. The film was directed by Sato Keiichi.
The story is based on the manga series of the same name, also known as Knights of the Zodiac.