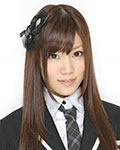 Deguchi Aki announced her graduation from SKE48.
The announcement was made by herself on March 13 at the end of Team S 4th Stage "Reset" at SKE48 Theater.
Deguchi Aki celebrated her 26th birthday today. She thanked the fans for their support, and she explained that she wanted to pursue her career as a singer.
Her graduation ceremony will be held in April.
Deguchi Aki joined SKE48 as a 1st generation member in 2008. She is part of Team S. She is a former AKB48 Kenkyuusei.