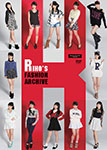 Sayashi Riho's new DVD Riho's Fashion Archive will be released on March 12.
This is the 3rd solo DVD of the member of Morning Musume.
It complements Sayashi Riho's photobook Taiyou (太陽) released in November 2013.
The digest video has been released.
As its title suggests, Riho's Fashion Archive shows the 9th generation member of Morning Musume as a model wearing various outfits.