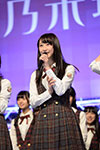 SKE48's Matsui Rena debuted with Nogizaka46 on April 13 at Makuhari Messe in Chiba.
For her first appearance with Nogizaka 46, Matsui Rena performed the song Kizuitara Kataomoi (気づいたら片想い) with the other members of the idol group.
12000 people attended the event. The fans were surprised to see her on stage
Matsui Rena said that she was going to make an appearance in Nogizaka46's 3rd play 16-nin no Principal Trois (16人のプリンシパル trois).
Ikoma Rina, who debuted with AKB48 on April 12, was also present.
The live performance was part of the nationwide release and handshake events held for Nogizaka46's 8th single Kizuitara Kataomoi.
Furthermore, her 2nd photobook Hemeretto (へメレット) is on sale since April 1.